I bundled 55 great resources to create my 'Introduction to Business (Business Essentials)' Course for a FULL YEAR COURSE! Even if you don't teach an 'Intro to Business' course, this bundle would be your Multi-Prep Business Teacher TOOLKIT and SURVIVAL GUIDE! It has an easy to follow curriculum that aligns to the National Business Education Standards (NBEA).
This Course includes a 14-page Lesson Library to keep the teacher organized and make the lessons easy to find.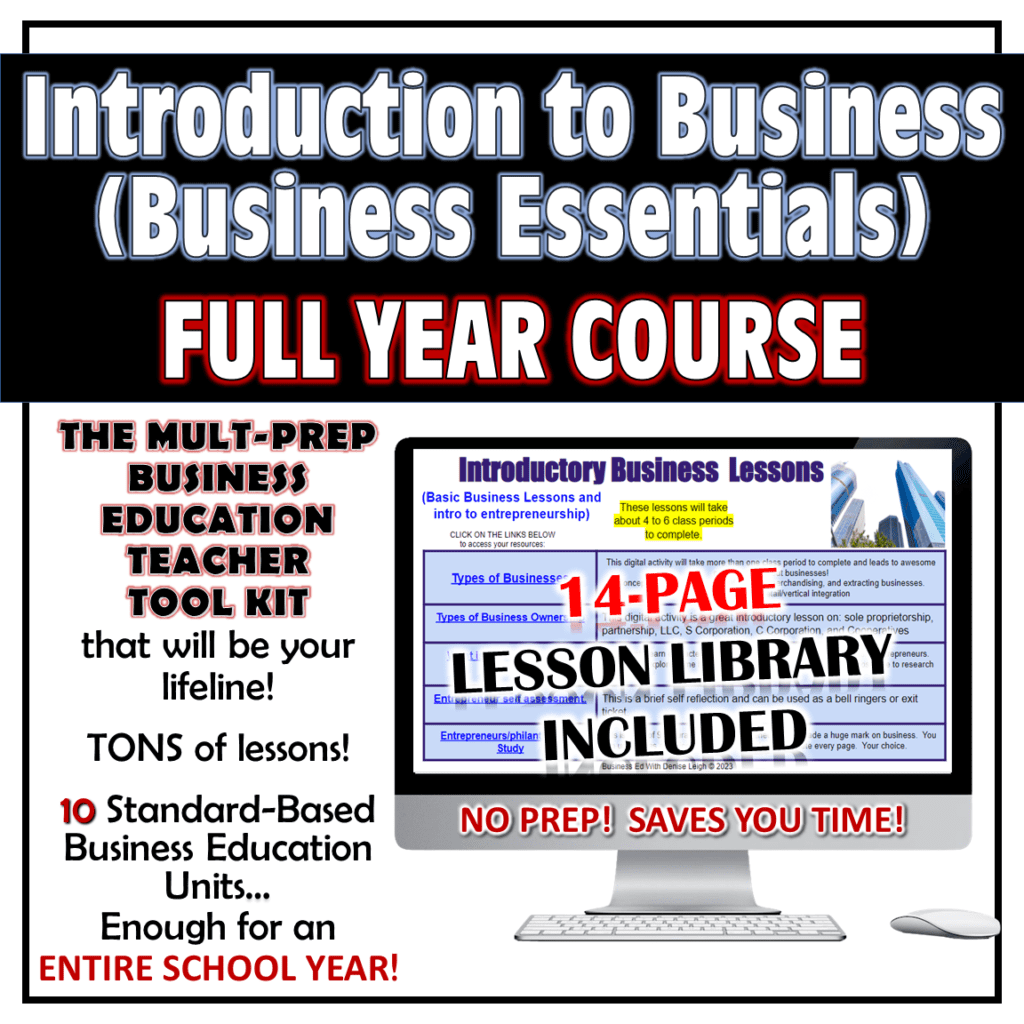 My 'I Want to Know Your Business' First Week of School/Get to Know your students activity
Types of Businesses
Types of Business Ownership
What is an Entrepreneur?
Entrepreneur Self-Assessment
Entrepreneurs/Philanthropists Study
What is Marketing?
Marketing Mix
SWOT Analysis
Functions of Marketing
What are Demographics?
Practice with Demographics
Marketing Segmentation
How Will I Advertise?
Let's Get Social
Promotional Activity File
Promotional Website Web Search
Fair Packaging and Labeling Act
Consumer Behavior and Color Advertising
Why Would I Buy This?
Paper Airplane Project
Leadership Qualities
Management Styles
Human Resources Management
Stock Market Discovery and NYC Virtual Tour
Types of Investments Introductory Lesson
Intellectual Property
Labor Laws
Consumer Rights
Workers' Rights Under OSHA
Contract Law
McDonald's Coffee Lawsuit
Cadbury vs Hershey Lawsuit Case Study
American Eagle Lawsuit Case Study
Federal Agencies that Protect the Law
White Collar Crime
Insider Trading and the Law
Soft Skills Reflection
Skills Self-Assessment
Communication Skills File
Time Management
Empathy
Teamwork
International Business Study
Commodity Study on Avocados
Commodity Study on Bananas
Commodity Study on Coffee
Commodity Study on Cocoa
Accounting Sketch Notes
The Balance Sheet Explained
The Income Statement Explained
Accounting Departments
Intro to Business Plan Writing
Business Plan Template
Management as a Career
Human Resources Careers
Social Media Manager as a Career
Accounting as a Career
Actuary Science Careers
Careers in Marketing
Real Estate Careers
Financial Analyst Career
Careers in Public Relations
Over 20 engaging business writing prompts perfect as bell ringers!
Performance Expectations in the Workplace
Job Interview Tips Digital Activity
Resume Writing Tips
Public Relations Case Study
Digital Citizenship For Teens
: Financial Advice for Teens from Experts!
This full year course includes student-led material. No PowerPoints needed as all of the information is included to allow the students to discover on their own and present to the class. Also, the lesson library includes formative assessment templates that can be edited and customized for any lesson. There are no tests or quizzes included in this resource to allow for teacher autonomy on student assessment.