We teachers need our coffee, right?  I have a confession to make. I LOVE coffee! ☕
I always have!  When I was a little girl, I would steal a sip from my mother's cup.  They say that a child's growth can be stunted by drinking coffee…I am proof that is not true! 😊
National Coffee Day happens every year near the end of September.  I have a great resources to teach my students about coffee as a commodity.  Students do not now what a commodity is.  We grow so little coffee in the United States, but drink so much that we have to import almost $7 billion worth every year!
Coffee Lesson for International Business
COFFEE AS A COMMODITY CASE STUDY
I created this lesson to teach about coffee as a commodity for my International Business Unit for my Business Essentials (Introduction to Business) class.
This is an engaging and interdisciplinary Google Slide activity file that introduces coffee as a commodity from tree to cup!
This comprehensive case study on coffee as a commodiuty covers these important concepts:
What is a commodity?
Explore the Countries that Export the Most Coffee to the U.S.A.
Fair Trade practices
The Economics of a Cup of Coffee
Coffee Target Market and Demographics Analysis
Includes a Video Clip of Coffee from Tree to Cup
Explore Leading Coffee Brand and Leading Coffee Shop Brands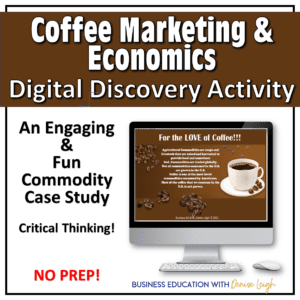 Business Law Coffee Lesson
McDONALd's famoust hot coffee lawsuit
If you were around in 1997,then you remember this famous lawsuit that everyone was taling about.  Some saw it as frivilous and some saw it as legit.  This is a GREAT activity to get your students thinking about the case and the FACTS!
Students EXPLORE the McDonald's Hot Coffee Lawsuit of 1997, INVESTIGATE the facts, ANALYZE the outcome, and give their OPINION!
Be ready for some great classroom discussions!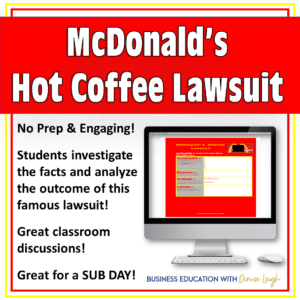 Business Law Class Bundle – 6 Digital Activities
The McDonald's Hot Coffee case and FIVE others are included in this Business Law Bundle,  These are all highly engaging lessons that lead to great classroom discussions.  Student love to give their opinions.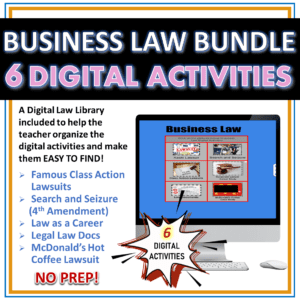 Accounting Class Coffee Lesson
Piper's Pumpkin Spice Coffee and Food Truck
Part 1 of 2 – Accounting Class Journalizing Transactions Review
Piper's Food Truck (Part 1 of 2) digital accounting activity is an excellent review to complete after students learn to journalize transactions. My students always need extra practice and this digital activity is PERFECT! Students record transactions for Piper's Pumpkin Spice Food Truck and Coffee business. There are 11 transactions. This can easily be used as an assessment! NO PREP!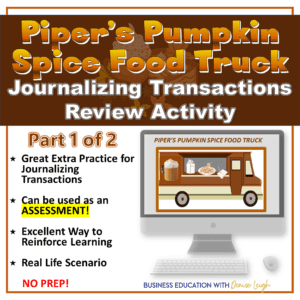 Part 2 of 2 – Accounting Class Cash Control Systems Review
Piper's Food Truck (Part 2 of 2) digital accounting activity is perfect for extra practice journalizing while learning the Cash Control Systems Chapter of high school accounting. Students go through a transaction journey for entrepreneur, Piper Garett, as she pursues her dream of owning a Pumpkin Spice Food and Coffee Truck!
GENERAL JOURNAL AND MULTI-COLUMN ARE BOTH AVAILABLE IN THIS RESOURCE!
INCLUDES A TEACHER'S KEY
Students will journalize transactions for:
Cash Investment
Cash Sales
Cash Payments
Establishing Petty Cash
Bank Charges
Dishonored Checks
Replenishing Petty Cash